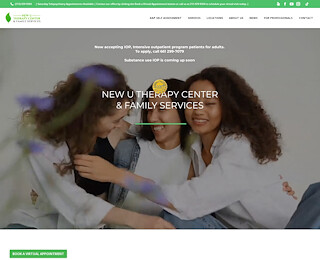 The fight against addiction is not merely a physical battle; it's a struggle that delves deep into the emotional, psychological, and spiritual realms. For those standing on the precipice, wanting to reclaim their lives, know that you are not alone.
At New U Therapy Center Family Services, we extend our hands, expertise, and heartfelt support to help you cross over to a life renewed through our Drug Rehabilitation Program in Valencia.
Types of Drug Rehabilitation Programs
When it comes to drug rehabilitation, one size does not fit all. Broadly, programs can be classified into inpatient and outpatient services. Inpatient programs offer a residential setting where clients can focus solely on their recovery, shielded from triggers and stressors. Outpatient programs offer treatment services for a few hours a day, allowing clients to live at home and maintain some regular daily activities.
Within these broad categories, there are specialized programs such as Partial Hospitalization Programs (PHP) and Intensive Outpatient Programs (IOP). PHPs offer intense, hospital-like treatment during the day but allow clients to return home at night. IOPs provide a less intensive schedule, designed for those who have other commitments like work or family.
Additionally, there are programs specifically designed for adolescents, women, or individuals with co-occurring mental health conditions. The choice of program often depends on several factors, including the severity of the addiction, the presence of any coexisting conditions, and personal circumstances.
How Our Program is Unique
At New U Therapy Center Family Services, our drug rehabilitation program stands out for its individualized approach. We don't subscribe to a one-size-fits-all mindset; instead, we tailor our programs to the unique needs of each client.
Secondly, we offer a holistic treatment plan that goes beyond mere abstinence. Our program incorporates medical treatments, psychological therapy, nutritional planning, and life skills workshops. By attending to the multiple facets of a person's well-being, we aim to deliver a more enduring recovery.
Our staff is another factor that sets us apart. Composed of experienced healthcare professionals, therapists, counselors, and support staff, our team is deeply committed to the welfare and success of our clients. Their expertise and compassion form the backbone of our program.
We are situated in a serene, therapeutic environment. The calm and tranquility serve as the perfect backdrop to a journey of healing, helping our clients to focus solely on their path to recovery.
Stages of Drug Rehabilitation
Initial Assessment: The first step in any drug rehabilitation program is a thorough assessment. At New U Therapy Center Family Services, we conduct comprehensive evaluations to determine the severity of the addiction and any coexisting conditions. This assessment forms the basis for the customized treatment plan.
Detoxification: The next stage involves detoxification, where the body is cleared of the drug substances. This stage can be challenging due to withdrawal symptoms, but medical supervision ensures it is conducted safely. After detoxification, the client is better prepared to engage in therapeutic activities.
Therapeutic Engagement: This stage encompasses various forms of therapies including group therapy, individual counseling, and medical treatments. Here, the focus is on understanding the root cause of the addiction and equipping the individual with skills to manage cravings and triggers.
Aftercare and Follow-up: The final stage in our program involves aftercare services, designed to support the individual as they transition back into daily life. This might include outpatient therapies, alumni groups, or other community-based supports.
The Role of Family in Rehabilitation
Family plays a critical role in the success of any drug rehabilitation effort. At New U Therapy Center Family Services, we actively engage families in the treatment process through family therapy sessions and educational workshops.
Having the support of loved ones not only bolsters the emotional strength of the individual in treatment but also educates the family on how to create a supportive home environment. This is particularly important for the prevention of relapse.
Moreover, involving the family often brings to light any family dynamics or issues that may have contributed to the addictive behaviors. Addressing these can be crucial for lasting recovery.
Finally, the family serves as a vital link for aftercare. Post-rehabilitation, the journey is far from over, and having a supportive family can be a significant advantage in maintaining long-term sobriety.
Aftercare Services
The journey towards recovery doesn't end when the rehabilitation program does. At New U Therapy Center Family Services, we offer robust aftercare services including outpatient therapies, peer support groups, and educational resources.
We also offer continuous monitoring through scheduled check-ups and remote technology, ensuring that any sign of relapse is promptly addressed. This ongoing support aims to solidify the gains made during the rehabilitation program.
Our aftercare services are designed to serve as a safety net, catching any setbacks before they evolve into full-blown relapses, thereby enabling sustained recovery.
Psychological Aspects of Drug Rehabilitation
Drug addiction is often the symptom of deeper psychological issues. Through various forms of psychotherapy, we aim to get to the root of these issues. Cognitive Behavioral Therapy, for instance, helps clients understand the thought patterns that lead to addictive behavior.
Emotional support is another critical psychological aspect. Emotional lows are often triggers for substance abuse. By equipping clients with emotional management skills, we better prepare them for a life free from addiction.
A sense of community, fostered through group therapies and peer interactions, also serves to address the psychological facets of addiction. Knowing that one is not alone in this struggle can be a powerful motivator for recovery.
The Importance of Detox
Detoxification serves as the gateway to rehabilitation. It's the process through which the body rids itself of toxins, setting the stage for effective therapeutic intervention. At New U Therapy Center Family Services, detox is conducted under strict medical supervision, ensuring safety and minimizing discomfort.
The detox phase also provides a clean slate upon which subsequent therapies can be more effective. When the body is free from the influence of substances, therapies like counseling and skill training yield better results.
Importantly, detox is not a standalone treatment but a precursor to a comprehensive rehabilitation program. Without following up detox with therapy and aftercare, the chances of relapse are significantly higher.
Employment Support and Rehabilitation
Getting back into the workforce can be a challenging yet crucial step in long-term recovery. We offer vocational training and job placement assistance as part of our rehabilitation program. By providing employment support, we aim to give our clients a sense of purpose and a path towards financial independence.
Through workshops and training programs, we equip our clients with the necessary skills to re-enter the workforce. This, in turn, fosters a sense of self-worth and independence, key components in preventing relapse.
Moreover, a stable job provides not just an income but also a structured environment that can be beneficial for maintaining a substance-free life. The routine, responsibilities, and social interactions that come with employment can serve as a buffer against relapse.
Learn More About Our Drug Rehabilitation Program Valencia
Recovery is not a destination but a lifelong journey. At New U Therapy Center Family Services, we are committed to walking this path with you every step of the way. Our Drug Rehabilitation Program in Valencia offers a comprehensive, individualized approach, backed by professional expertise and genuine care.
We understand that each journey is unique, laden with its own set of challenges and milestones. That's why our program is designed to adapt, evolve and support you through every phase of your recovery.
Recovery is not just about ceasing substance use; it's about reclaiming your life in its entirety–physically, emotionally, and socially. So, if you're ready to take that crucial step towards a new, healthier you, reach out to us. Together, we'll embark on this transformative journey towards a renewed life.