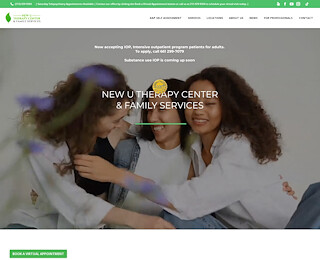 As the great Bob Dylan once sang, "The times they are a-changin'." Indeed, the approach to addiction treatment has evolved significantly over the years, offering more flexible options than ever before.
At New U Therapy Center Family Services, we are at the forefront of this change with our IOP Program in Westlake Village. Gone are the days when hospitalization was the only route to recovery; our intensive outpatient program allows you to regain control of your life without detaching from it.
Overview of IOP (Intensive Outpatient Program)
An Intensive Outpatient Program (IOP) offers a middle ground between full-time residential treatment and regular outpatient care. It provides a structured yet flexible program that allows you to remain engaged in your daily activities while getting the treatment you need.
IOPs generally include both individual and group therapy sessions, addressing various aspects of recovery such as psychological, social, and sometimes even vocational and legal issues.
The intensity and frequency of these sessions vary based on individual needs, usually comprising several hours a day for a few days each week. The purpose of an IOP is to establish a strong foundation for long-term recovery, equipping individuals with the tools and support they need to lead a sober life.
This includes not just medical treatment, but also psychological support, life skills training, and relapse prevention strategies.
Unique Features of Our IOP Program
At New U Therapy Center Family Services, we take pride in the unique features that set our IOP Program in Westlake Village apart from the rest. To start, we offer a holistic approach to recovery. This includes nutritional guidance, exercise regimens, and mindfulness practices in addition to medical and psychological therapies.
Second, we emphasize family involvement, believing that a supportive home environment significantly improves the chances of successful recovery. Our program also offers a high degree of customization. We recognize that addiction and recovery are deeply personal experiences, and our treatment plans are tailored to meet the specific needs of each individual.
We offer ongoing aftercare services to ensure that the gains made during the program are sustained in the long run.
Levels of Care in Our IOP
Our program operates on four levels of care to cater to individual needs. The first level, the 'Entry Level,' is designed for individuals who have just started to acknowledge their substance abuse issues. It involves a thorough assessment, medical detoxification if necessary, and an introduction to behavioral therapies.
The second level, 'Active Treatment,' intensifies the focus on behavioral therapies and includes the introduction of group therapy sessions. At this stage, patients also begin working on life skills and relapse prevention.
The third level, 'Transition,' prepares individuals for the shift from intensive treatment to standard outpatient care. This involves reinforcing skills and strategies learned and helping patients integrate them into their daily lives.
The fourth and final level, 'Aftercare,' provides ongoing support through group therapy, periodic check-ups, and booster sessions. While not as intense as earlier levels, aftercare is crucial for maintaining long-term sobriety and is strongly recommended for all program graduates.
Admission Process
Admission to our IOP Program begins with a comprehensive evaluation to assess the individual's medical history, substance abuse patterns, and psychological state. This helps us determine whether IOP is the most appropriate level of care for you.
Once assessed, a personalized treatment plan is developed, outlining the therapies, interventions, and support systems that will be used.
Financial arrangements are also discussed at this stage, including insurance coverage and any out-of-pocket costs. Finally, a schedule is established, taking into account the individual's personal and professional commitments.
It is essential to us that treatment does not disrupt your daily life more than absolutely necessary.
Family Involvement in IOP
We believe that family plays a pivotal role in the recovery process, which is why we include family counseling sessions as part of our program. Family members are educated about the nature of addiction, the recovery process, and how they can best support their loved one.
We also offer family-only therapy sessions where members can discuss their concerns and feelings openly, helping to resolve any issues that may be hindering the recovery process.
Goals and Milestones
As with any treatment plan, setting achievable goals is a crucial part of our IOP Program. These can range from short-term objectives like completing detox or attending all scheduled sessions in a week, to long-term goals such as achieving six months of sobriety. Milestones are celebrated, no matter how small, as each is a step closer to full recovery.
Peer Support Groups in IOP
Peer support plays a significant role in our program. Group therapy sessions provide a platform for patients to share their experiences, challenges, and successes. The group dynamic often acts as a motivating factor, inspiring individuals to persevere through the rough patches of their journey.
Withdrawal Management
Managing withdrawal symptoms is an integral part of our IOP. Medical supervision ensures that withdrawal is as comfortable and safe as possible. Behavioral therapies and medications, when necessary, are used to manage symptoms and cravings.
Learn More About Our IOP Program Westlake Village
Our IOP Program in Westlake Village is not just about treating addiction; it's about empowering individuals to reclaim their lives. With a comprehensive, multi-faceted approach, we provide you with the tools you need to achieve lasting sobriety.
Recovery is a long road, but it's a road you don't have to walk alone. At New U Therapy Center Family Services, you have a whole team walking alongside you, providing the treatment, the tools, and the support to make your journey a successful one.
So take that crucial first step towards recovery and empowerment. Reach out to us today and discover how our IOP Program can help you turn your life around.